Monday 4th March,
Dear Year 6,
Please write a story using the stimulus picture below - for Wednesday. Your weekly spellings are below too - write them out in sentences please. Keep looking at your year 6 spelling list and try to challenge yourself. How many of the tricky words can you spell?
See you tomorrow,
Best wishes,
Mrs Abell
excellent
fluorescent
environment
parliament
transparent
imprisonment
consistent
believable
comfortable
vulnerable
Dear Year 6, sorry this didn't upload on Monday. Please find your homework attached. For Friday please. Thank you, Mrs. Abell
Spellings for the week:
environment
persistent
excellent
obedient
treatment
excitement
parliament
fluorescent
intelligent
improvement
Please put the words in to sentences and then do look, cover, spell, check.
Dear Year 6, Saint George's Class,
Hope you have a good break over half term. Please see below some reading comprehensions for you. Try to complete each one in twenty minutes, the time allowed in your SATs test. Keep a diary over half term - make it interesting and bring it in to school on the first Monday back. There's an arithmetic paper to complete too. Feel free to add photographs and pictures to your diary.
Take good care and see you after the break,
Best wishes,
Mrs Abell and Mrs Davis
Today, Monday 4th February, Fr Paul came in to school for the feast of Saint Blaise to bless our throats.
Thursday 31st January. Well done year 6 - baking as part of your measurement topic in Maths and investigating conductors and insulators in our electricity topic. Brilliant behaviour - it's been a great day.
Year 6 Trip to Houses of Parliament
On Wednesday 24th October, Year 6 went to visit the Houses of Parliament in London. We met local Loughborough MP Nicky Morgan, who presented us with certificates. It was fantastic to learn how Parliament began and how laws are created. We also had the opportunity to see a live debate in the House of Commons! It was a fantastic day and everyone thoroughly enjoyed themselves.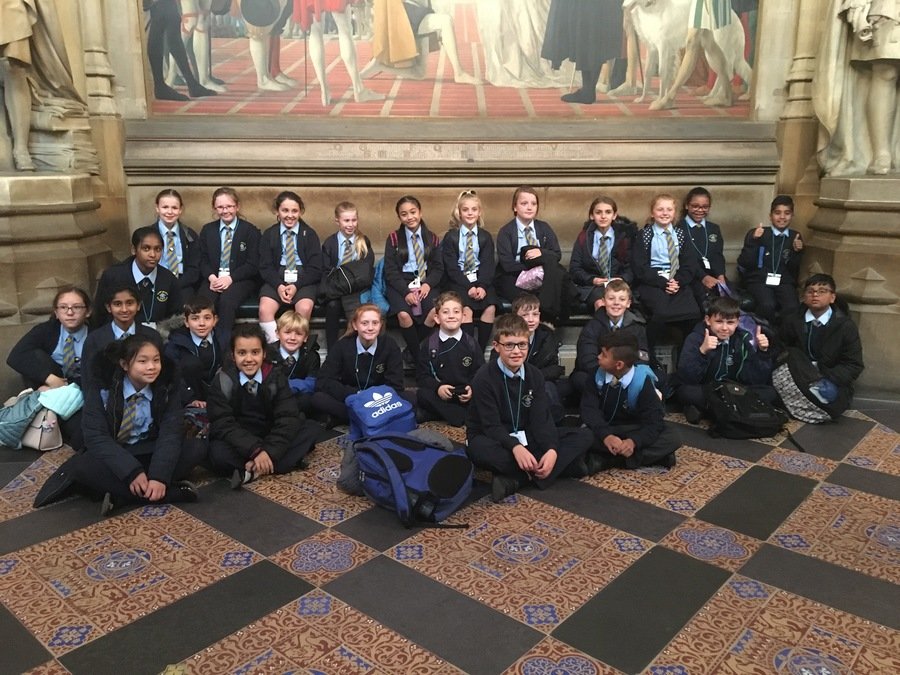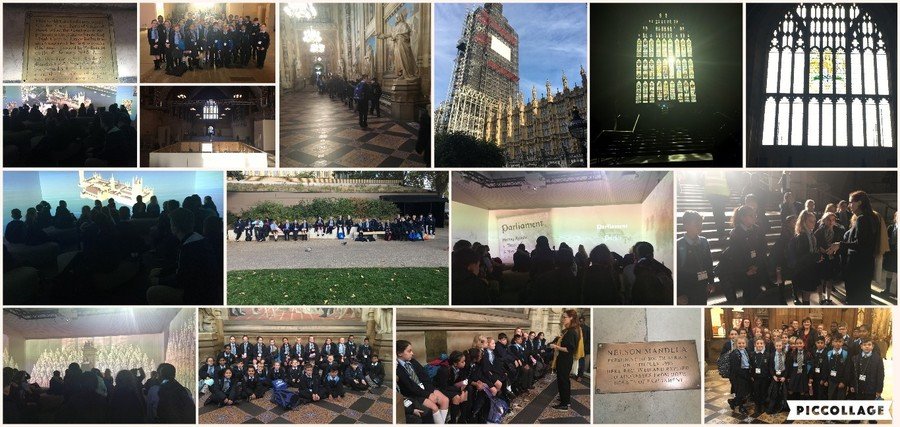 Year 6 Curriculum Information
Here you will find the end of year expectations in Reading, Writing and Maths for Year 6 pupils.
Wednesday 26th September
Dear Year 6,
For your homework over the next week, I would like you to describe, design and create a mechanical or a mechanimal, based on our book, Cogheart.
Please find below your list of spellings for the coming week:
vicious,
ambitious,
precious,
conscious,
fictitious,
infectious,
delicious,
malicious,
nutritious,
suspicious,
official,
special,
artificial,
partial,
malicious,
confidential,
essential
Thank you everyone and have a great end of the week,
Mrs. Abell
P.S. Remember to do two pages a night of your workbooks.
Dear Year 6,
Please find three pieces of homework below: the first on root words (words which form the main "trunk" of a word, with no suffix or prefix added), the second and third on verbs.
Thanks,
Mrs. Abell
Dear Year 6,
Have a look at the picture below. Write a story based on this image: there are questions and ideas to help you. Use year 5/6 grammar objectives (paragraphs, parenthesis, semi-colons and adverbial phrases and clauses). Think about how you will set the scene in the opening paragraph.
Complete your story over the weekend for Monday please,
Thank you and have a great weekend,
Mrs. Abell and Mrs. Davis
Dear Parents,
Swimming will not be happening this Friday but will begin the following Friday 7th September. Today, children are bringing home a reading challenge which is an ongoing task for the term. Homework books will be coming home soon.
Please do take a look at the new long term plan for year 6 outlining everything we will cover this year as well as the end of year 6 expectations below. Children have already tackled the 2018 Grammar, Punctuation and Spelling SATs test and it really was totally fine - and even quite fun as we did it as a treasure hunt around the room.
Thanks everyone,
Mrs. Abell and Mrs Davis
Dear Children and Parents,
Welcome to year 6, Saint George's Class. We hope you have all had a good summer and look forward to welcoming you back this week. Please find below the long term plan for the year.
There are lots of exciting times ahead with the trip to the Houses of Parliament booked for the 24th October when our friends from Ghana will be joining us. Swimming will begin this Friday - please bring your kit (swimming costume or trunks, a towel and swim cap) and a waterproof coat in case it rains. Homework will begin today (Tuesday 28th August) but will usually be set on Mondays, Wednesdays and Fridays.
Today's homework is to collect as many words as you can which end in -cious or -tious. Please bring your lists in on Wednesday to begin our word finders display. There will be a prize for the longest and best lists.
Looking forward to working with you in Year 6,
Best wishes,
Mrs. Davis and Mrs. Abell