Diocesan Canonical Inspection June 2018
We were delighted with our good rating in this inspection and are working hard to reach outstanding, particularly in RE.
Yesterday, (6th June 2018) we were delighted to welcome Fr Angelo to school. Fr Angelo is a French speaking priest from Madagascar who will be staying for six months. Saint Teresa's Class was delighted to meet him and we all look forward seeing him often in school.
Welcome Fr Angelo!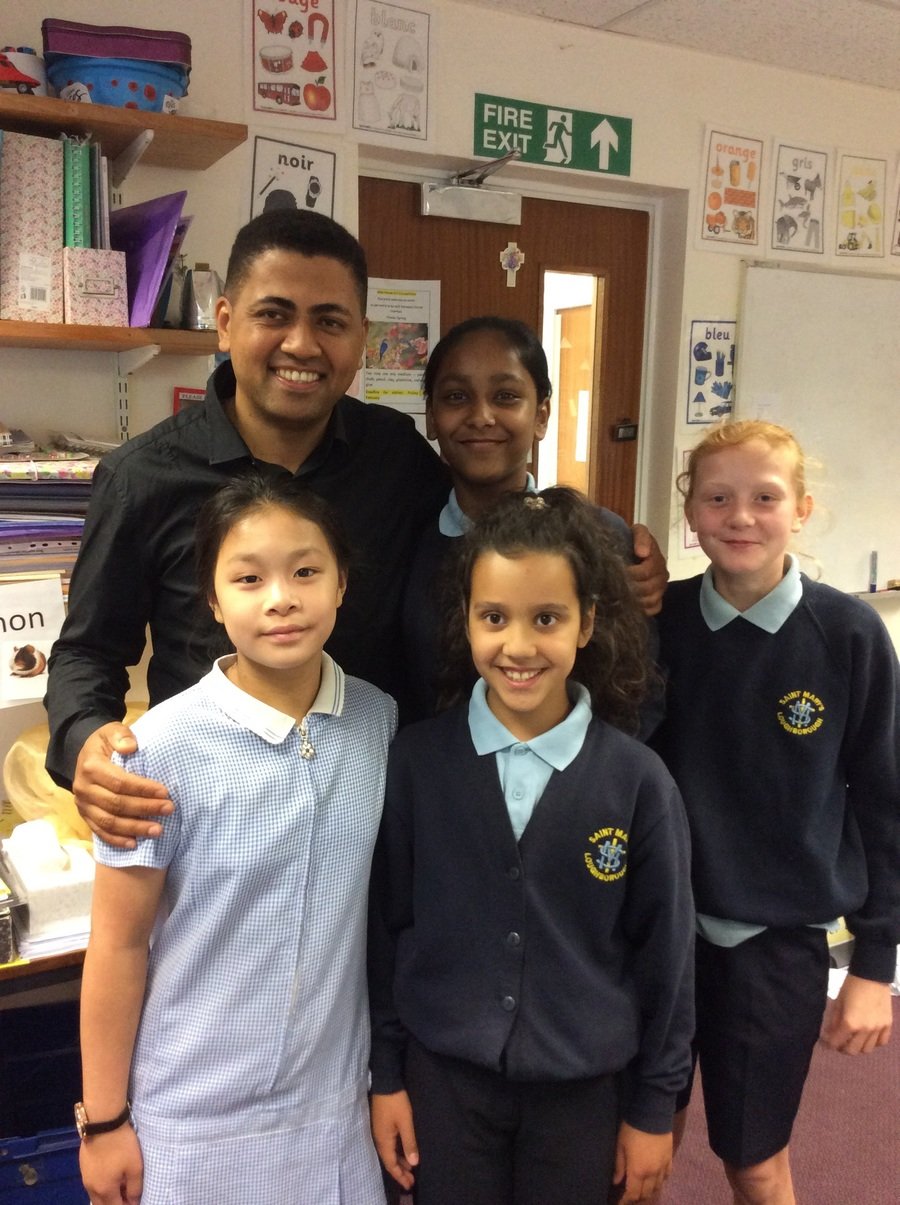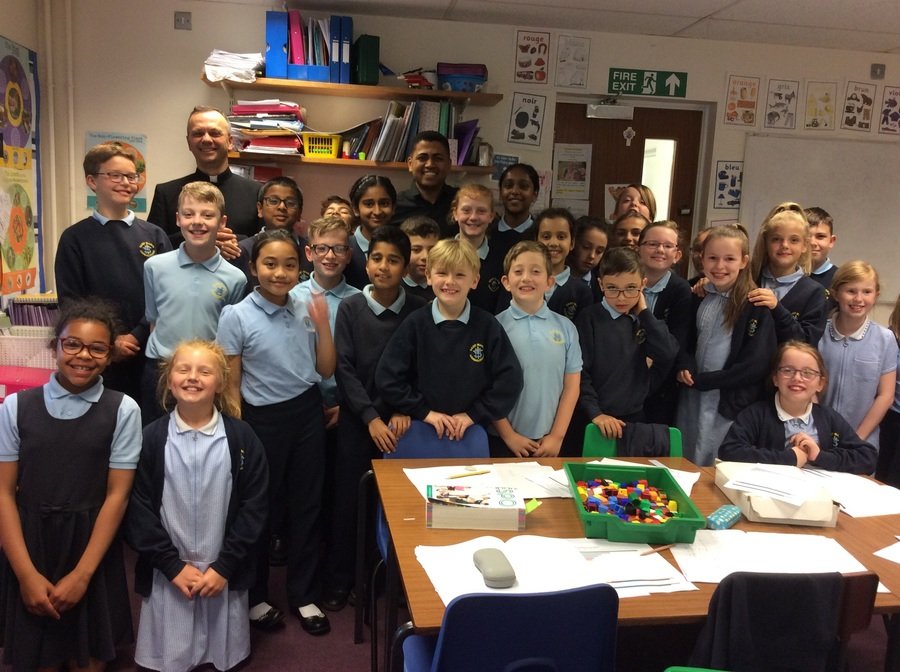 May: the month of our patron, Mary
Our school community, along with Fr. Paul, many families and several parishioners, joined together for a special
May Day Liturgy and procession in honour of Mary, our holy mother.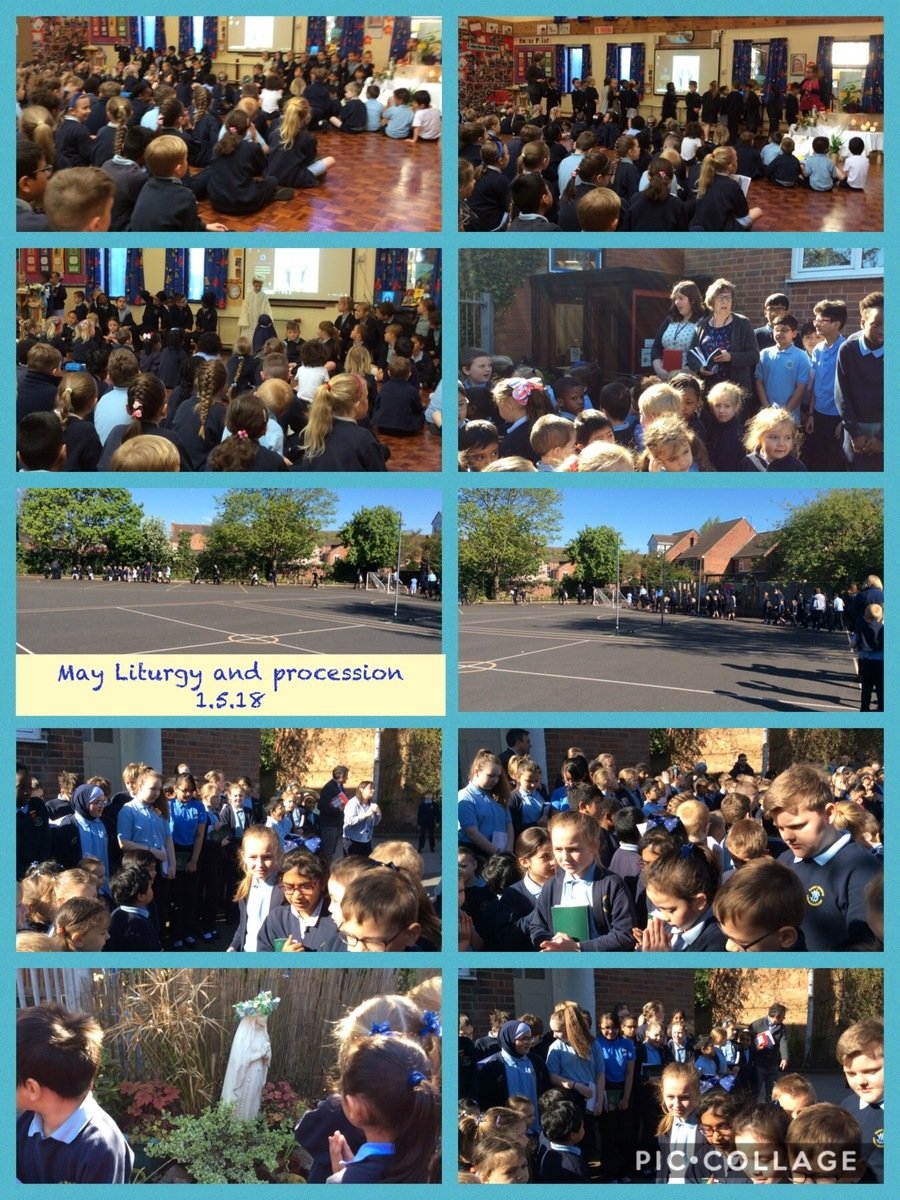 Praying the rosary with Key Stage 1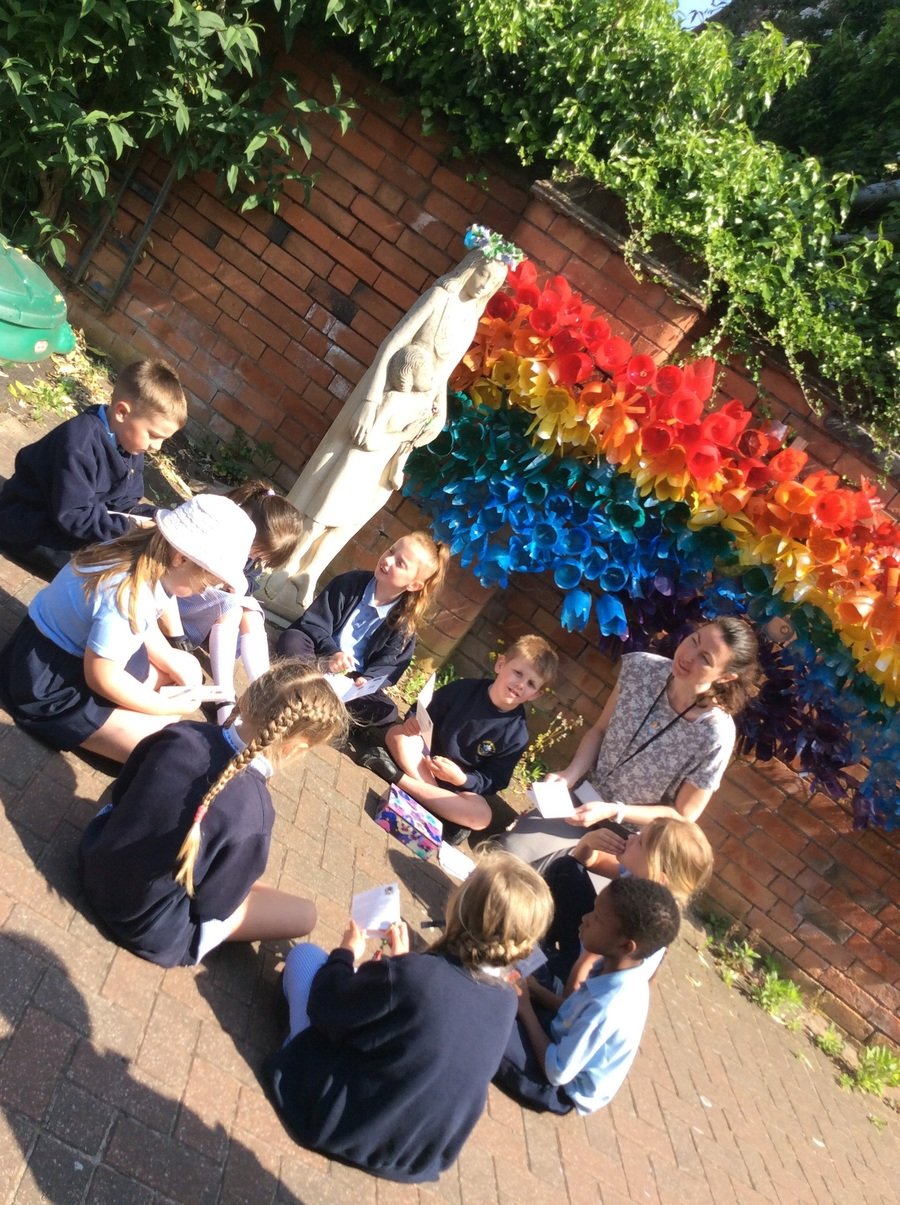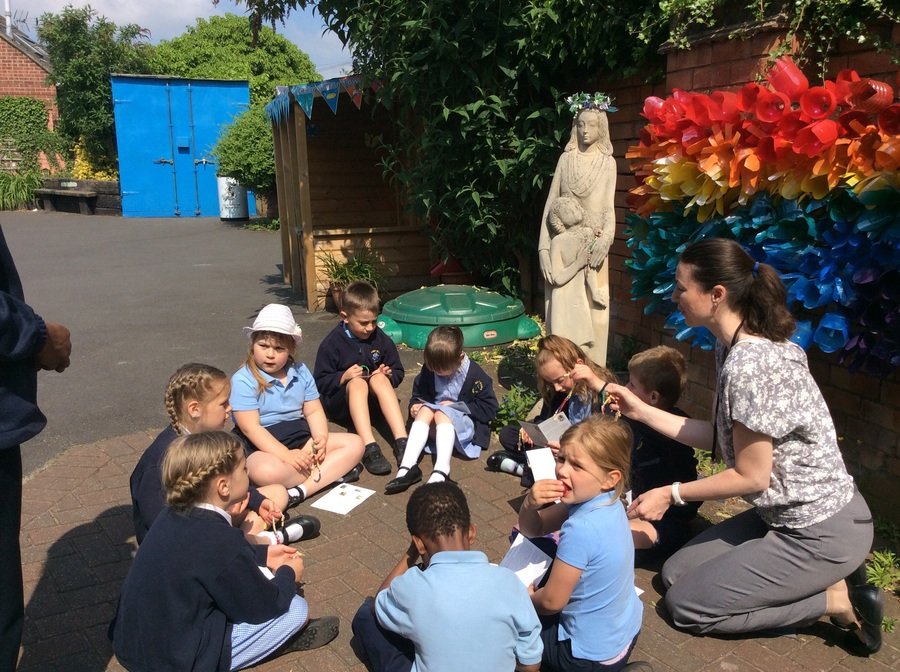 Some photographs from the first half of the summer term. Year 5 went on an Emmaus walk to the park and ended the half term with their Class Liturgy on Freedom and Responsibility. Classes continued to go to Mass with the parish on Tuesday mornings and the Chaplaincy team created a display for the back of church to show what goes on in school and offer free Chaplaincy team tours to parishioners.
Pentecost Mass with the Parish Sunday 20th May. Many thanks to all the families who came, especially those who helped their children prepare and read prayers in different languages.
Eucharistic Adoration in Church Friday 9th February 2018. Key Stage 2 went in to church for Adoration and Benediction at the end of the day before half term began. A very special and peaceful end to a hectic half term. Thank you Father Paul and the servers, Greg, Terry and Dan who came from the Parish. It was very moving. A true awe and wonder moment. The odd one out photograph is Father Paul talking to Saint Teresa's Class the day before about Transubstantiation, as part of their Eucharist topic. Weekly Mass on Tuesdays will begin again after half-term. Each class will take turns to join the Parish for Mass at 9.15am.
Religious Education
Saint Mary's Roman Catholic Primary School is part of the Blessed Cyprian Tansi Multi Academy Trust, which is made up of five primary schools and De Lisle Catholic College. We follow the Come and See Catholic programme of study in R.E. under the guidance of the Nottingham Diocesan Education Service. Take a look at our policies below and explore our new website to see how R.E., Catholic Life and Collective Worship are central to all we do each day.
We live by our school Mission Statement:
With Jesus as our guide, we promise to care for one another, to work hard, to build a community in Christ's love.
On Wednesday 7th February, Saint Teresa's Class (year 5) went to visit Saint Catherine's Class (year 1) to moderate their R.E. work on the Eucharist. It was really fun meeting each other in class but also interesting to see the lovely Level 1 and 2 work they had produced. Year 1 children had to read their work to the year 5 children who then wrote comments using the driver words for each level. Thank you for inviting us Saint Catherine's Class!
On Friday 2nd February year 4 Saint Peter's Class helped prepare and lead Mass for the Feast of the Presentation. We all began in the school hall where Father Paul blessed our candles for the year and everyone was given a glow stick, then we processed in to church for Mass. Afterwards Father Paul visited all the classes and everyone in school to bless our throats for the feast of Saint Blaise.
On Friday 9th February we had a blessed end to the half term with Adoration and Benediction in church. It was a reflective and calming end to a short, hectic half term.
On Monday 27th November, Father Paul came in to school to bless the Advent wreaths each class had made.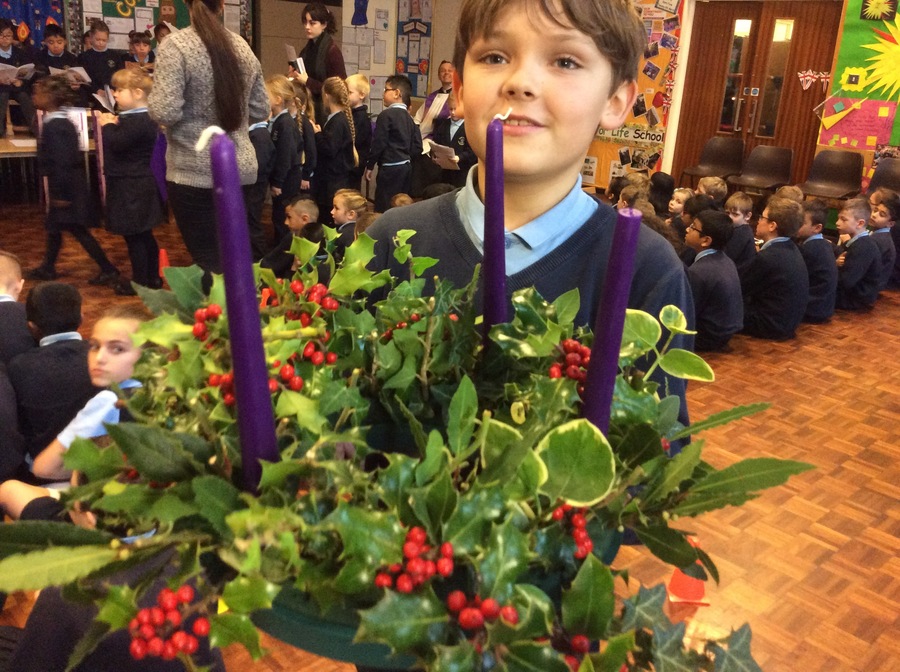 Collective Worship
The school day is structured around prayer. We begin each day with the Morning Offering to remind us that everything we do and say is an offering to God. Before lunch we say the Grace before meals together and once a week, Key Stage 2 classes recite the Angelus. After lunch we say thank you to God for our food and the blessings we receive and at the end of the day we say:
God Our Father, I come to say, thank you for your love today;
thank you for my family and all the friends you give to me.
Guard me in the dark of night and in the morning, send your light,
Amen.
Every Tuesday at 9a.m there is a whole school Liturgy led by classes or a member of the Senior Leadership team, which we invite parents and the community to, in our weekly news bulletins. A Senior Leadership team member leads a short Liturgy on Monday at 9a.m, followed by Hymn practise with Mrs Leaney and then a key assembly point for the week. We are learning the mass settings in song. There is a Key Stage 1 Liturgy every Thursday afternoon and a Key Stage 2 Liturgy led by year 6 every Wednesday morning. On Tuesday mornings classes take turns to attend the 9.15 Parish Mass. Since we have started attending weekly Mass, many parishioners have commented on how reverently children take part. On Thursdays at 9am each class has their own class liturgy organised and led by the pupils. Every Friday at 9am there is a whole school Achievement assembly which the whole community is formally invited to attend. Year 6 lead the morning offering and recite our school mission statement to remind us all that everything we do is out of love for and discipleship to Jesus.
Meet our Chaplaincy Team! They are just quite simply FANTASTIC!
They help lead prayer but also offer and guide suggestions as to how we can work and pray together to live out our mission to become closer to God. Look at the Collective Worship board in the school hall for the latest team minutes.
Our lovely Chaplaincy Team has expanded! A huge welcome to our new members. First task to organise our Lenten fundraising: thanks to Shakira for the Crazy Hair Day idea - 16th March - big thanks to Zahra and Victoria for doing the posters and year 5 for putting them up around school. Our postponed soup lunch will take place on the same day. Thanks everyone and watch this space...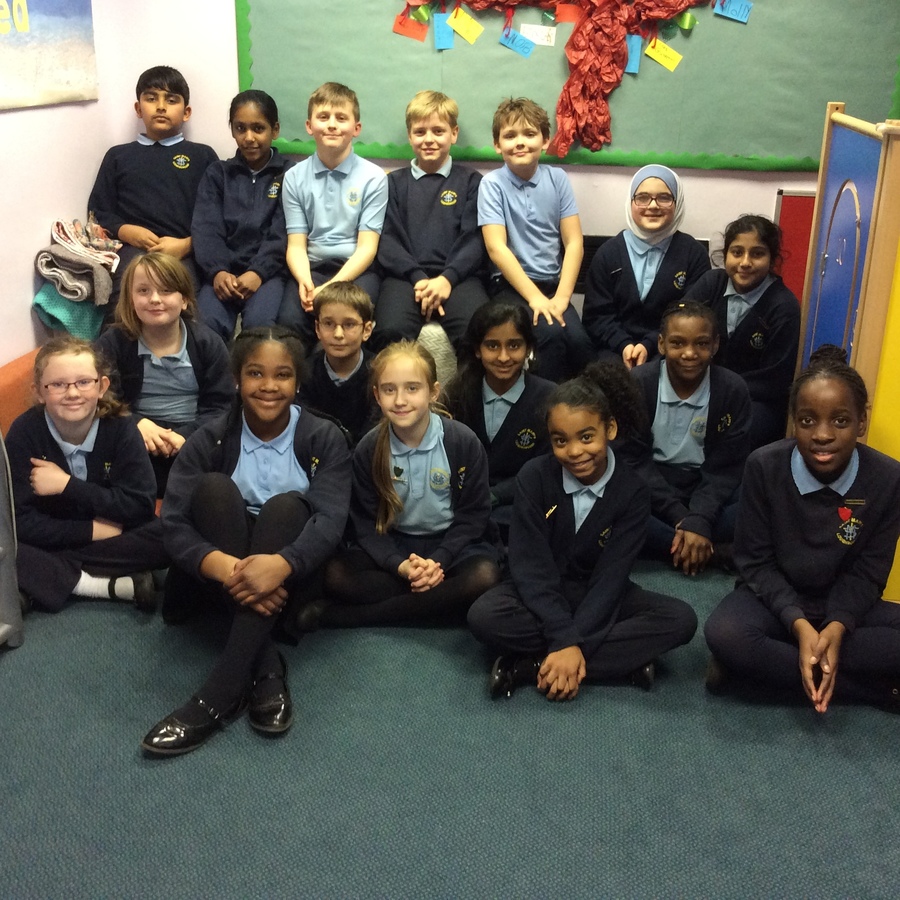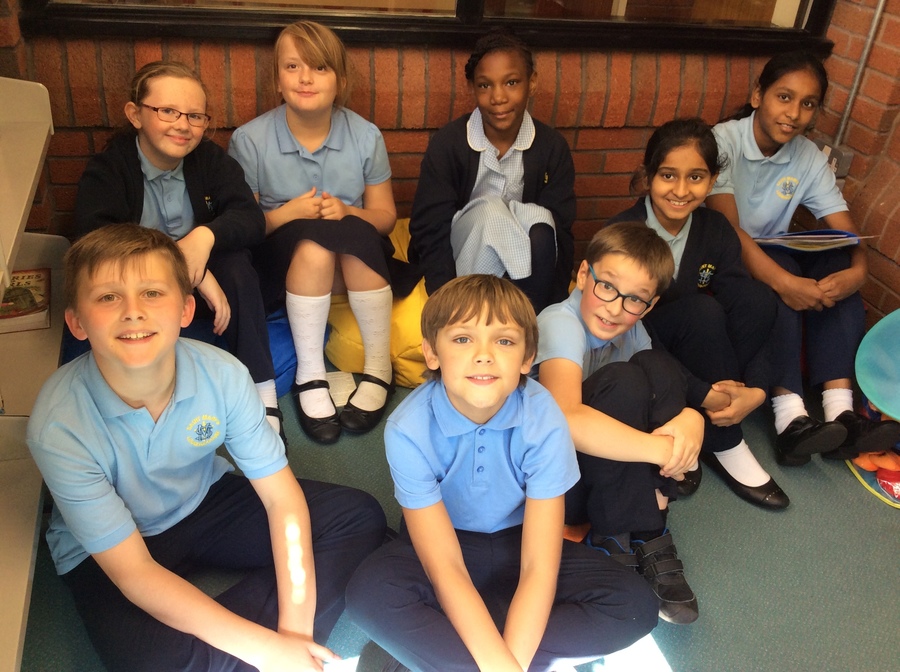 Here is one of their best selfies when they hosted the Grandparents afternoon tea party!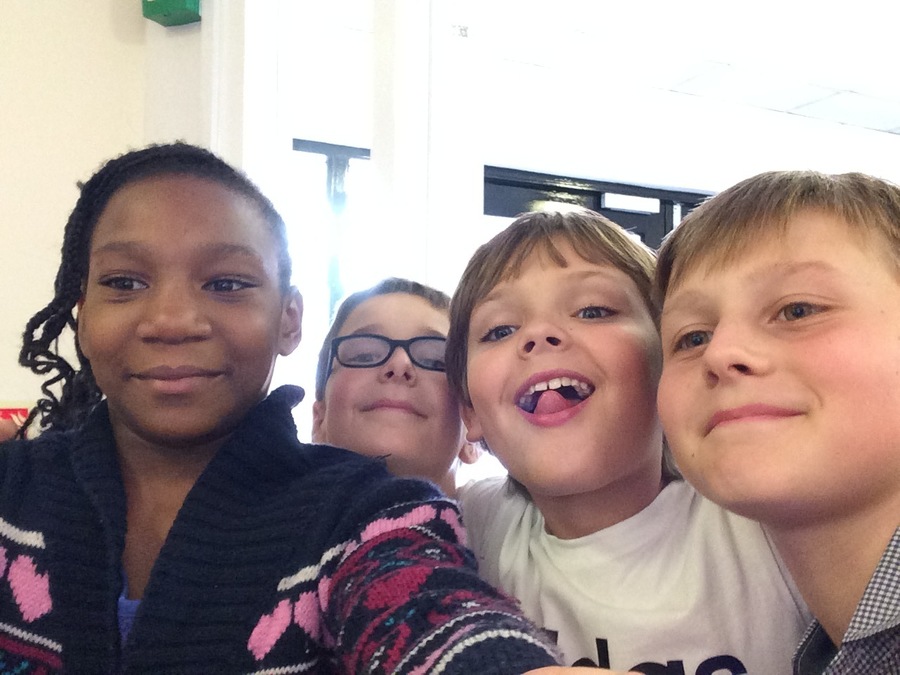 Probably, one of the best days of the whole term when we thanked Grandparents for all their love and support. We started with a Liturgy, gave out awards, took lots of photographs and then had a tea party in the afternoon.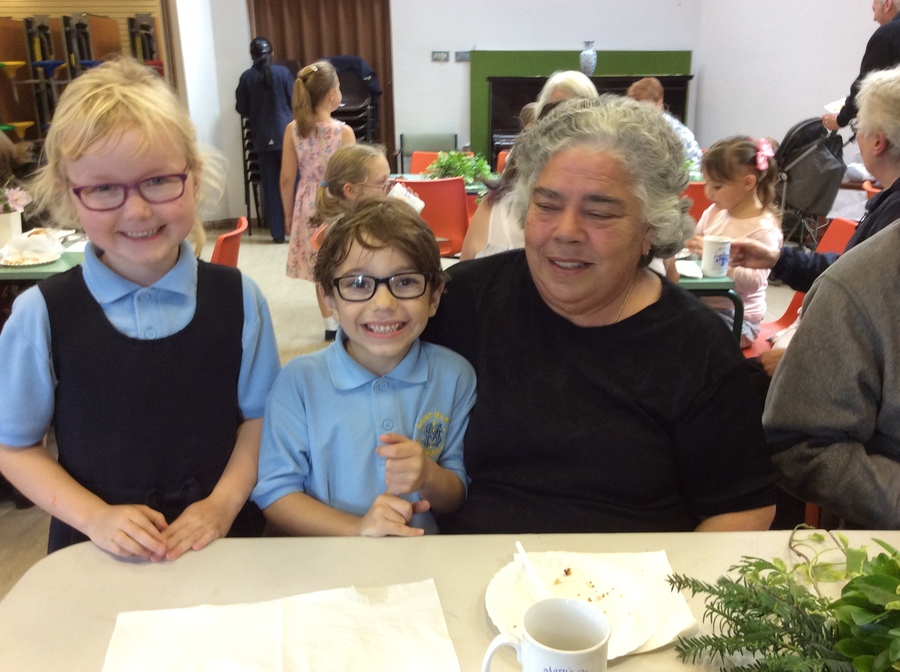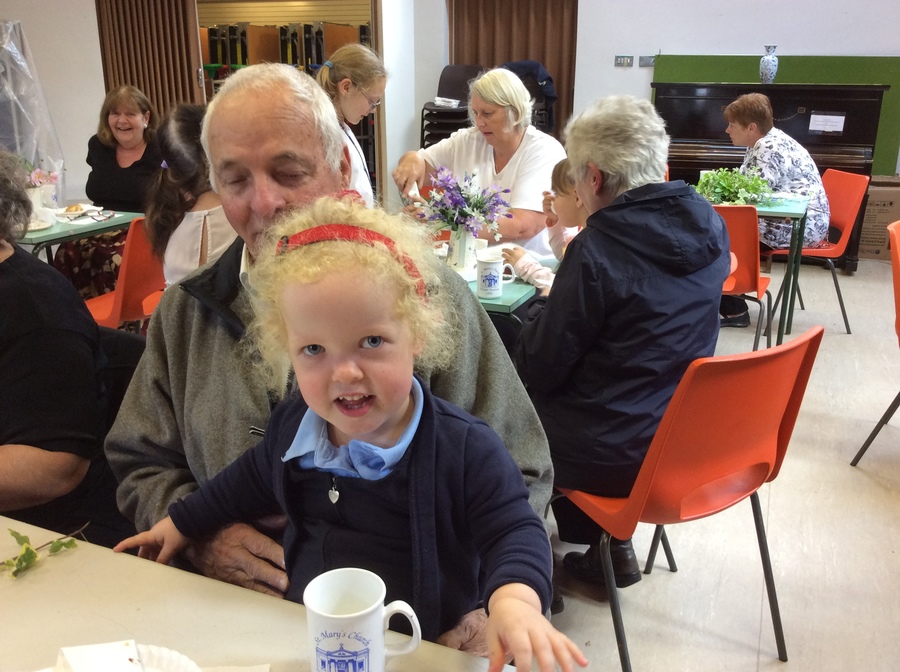 Here is a photograph of some of the chaplaincy team when we went to Mount Saint Bernard Abbey with other Chaplaincy Teams from the Blessed Cyprian Tansi Trust.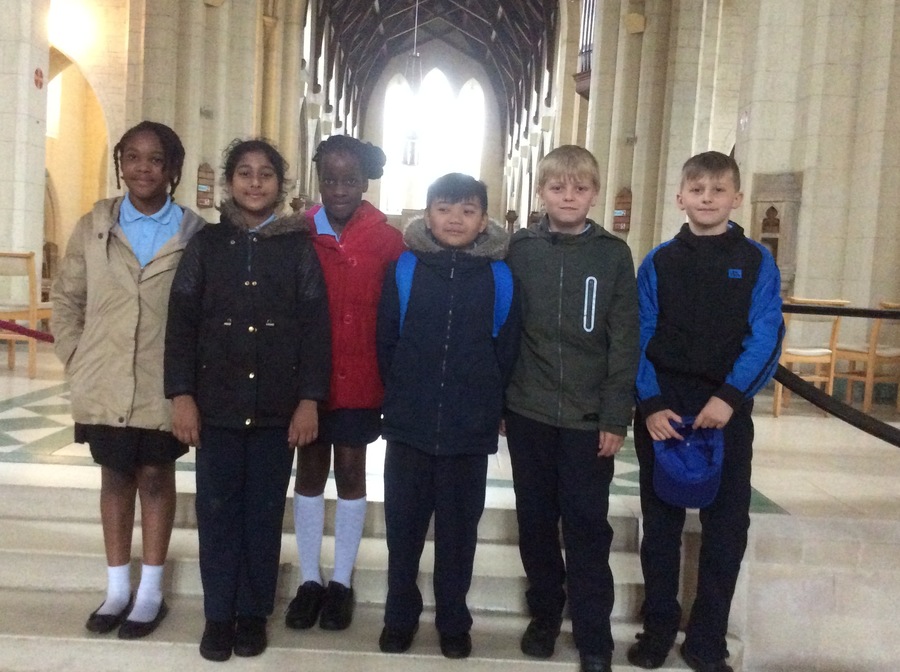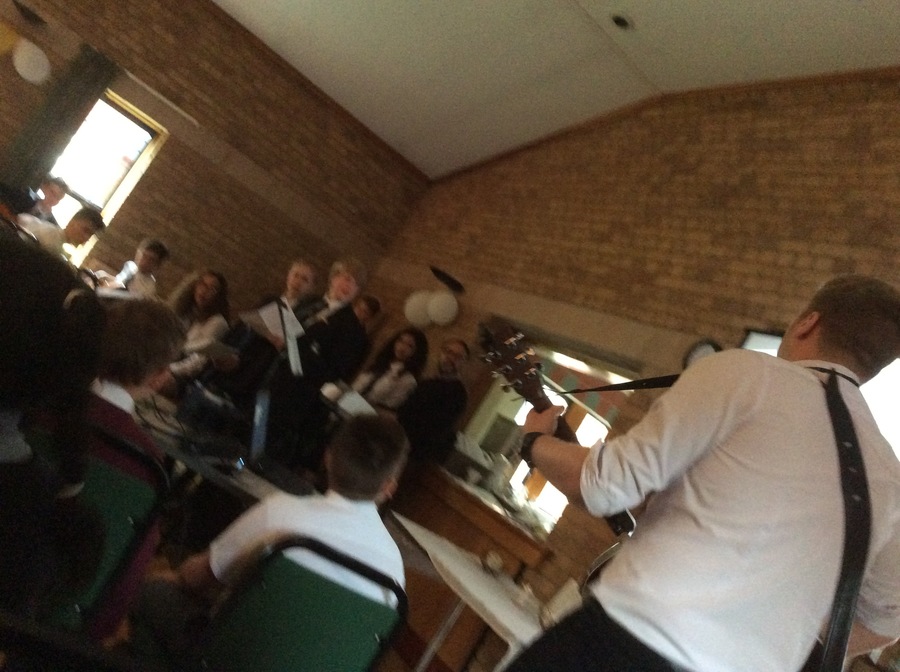 Catholic Life
Catholic Life is what makes our school a fun, vibrant, welcoming and exciting place to be. We have received so many comments from visitors about how welcoming and kind our school feels that we have recently opened a Visitors Book as a precious reminder that when we welcome others we welcome Christ.
All pupils belong to one of the Houses named after the four gospels, Matthew, Mark, Luke and John. The Chaplaincy Team chose a charity for each House to support this year. The chosen charities are: The Carpenter's Arms, Cafod, Rainbow's and Mary's Meals. They help organise and publicise events.
The Chaplaincy team organised an inter-house Art Competition - here are two of the most promising entries so far! Deadline extended to 23rd February.
Friday 26th January 2018 Charity Link Day! Everyone came to school wearing a colourful scarf to support Nicky Morgan, our MP. who is supporting the charity Link, working with vulnerable people in Leicestershire. We had fun and raised some money. Thank you everyone.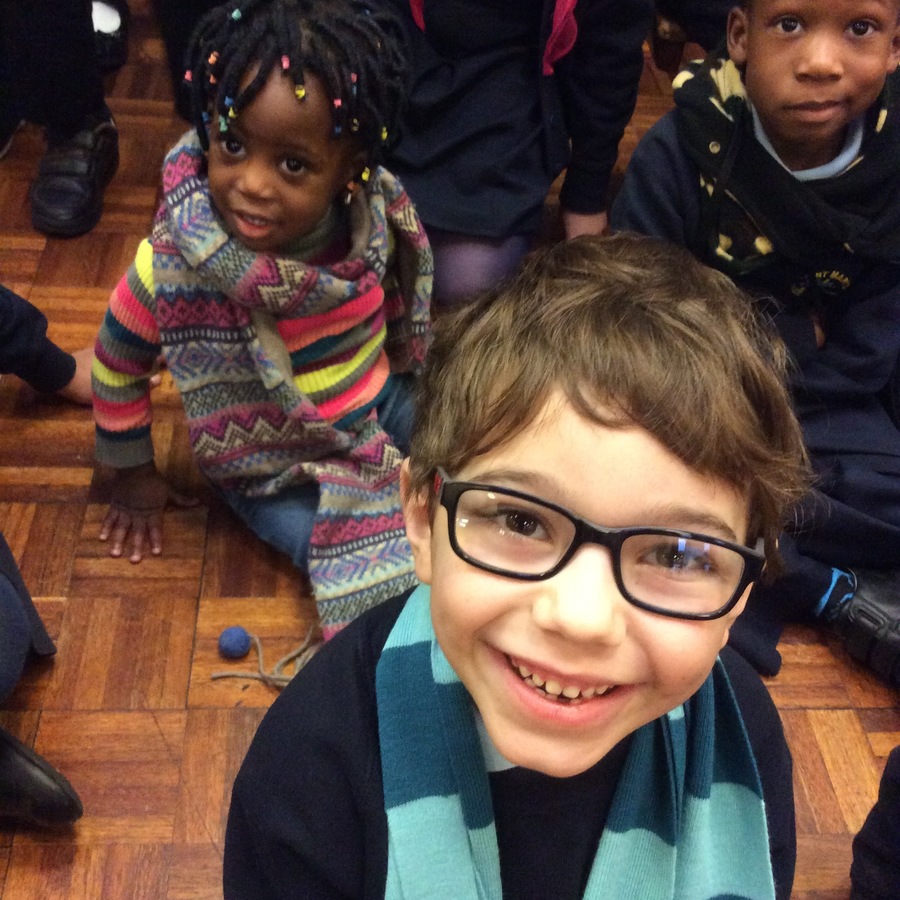 This photograph was taken when Saint Teresa's Class went to sing to the Senior Citizen's Parish Group before Christmas. The children baked cakes for them in the days before. Everyone had a great time and we have been invited back really soon.
We are really lucky to have our Church and our new Parish Priest, Father Paul Gillham, next door to us. Father Paul comes in for lunch regularly and often visits classes to talk to them about their work in R.E. and to discuss questions pupils may have about their faith or the church. It was great to see Father Simon Gillespie (Assistant Parish Priest) back in Mass this morning after his convalescence.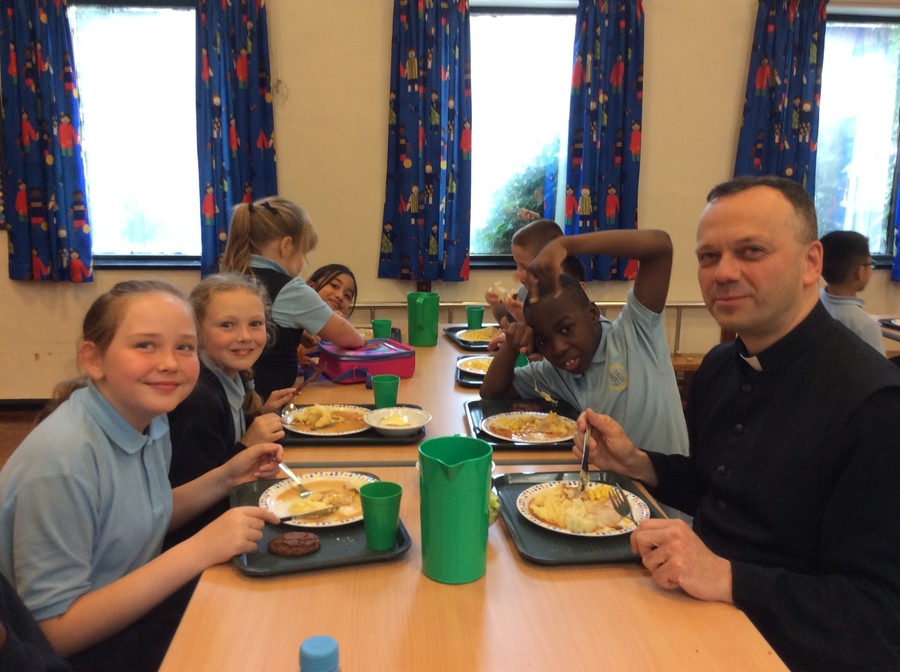 Father Paul visiting and blessing the classes.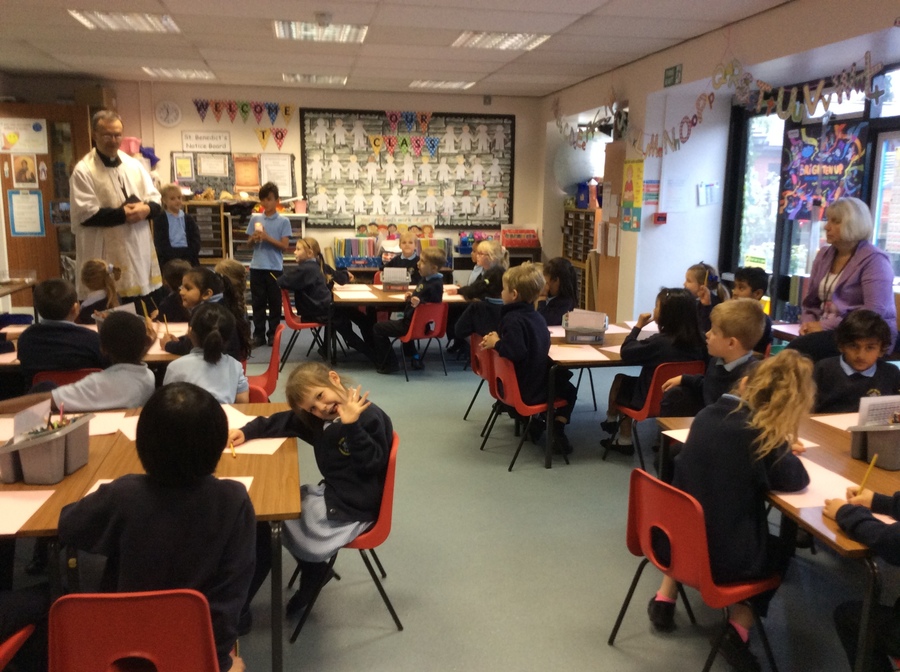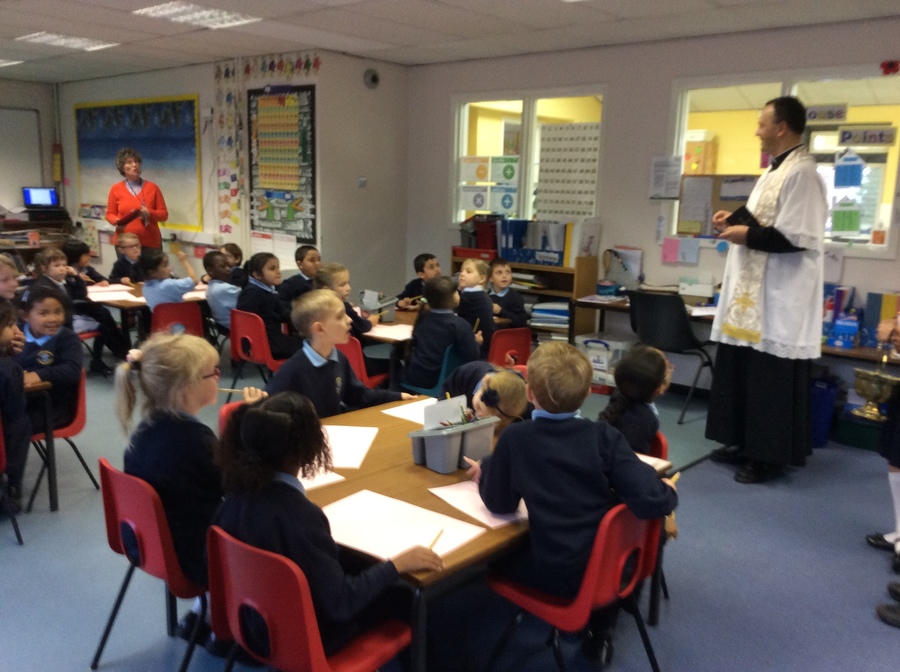 Cafod soup lunch - a massive and very special thank you to Miss. Jordan for making the soup and to Mr. Mount and Mrs. Hill for helping serve.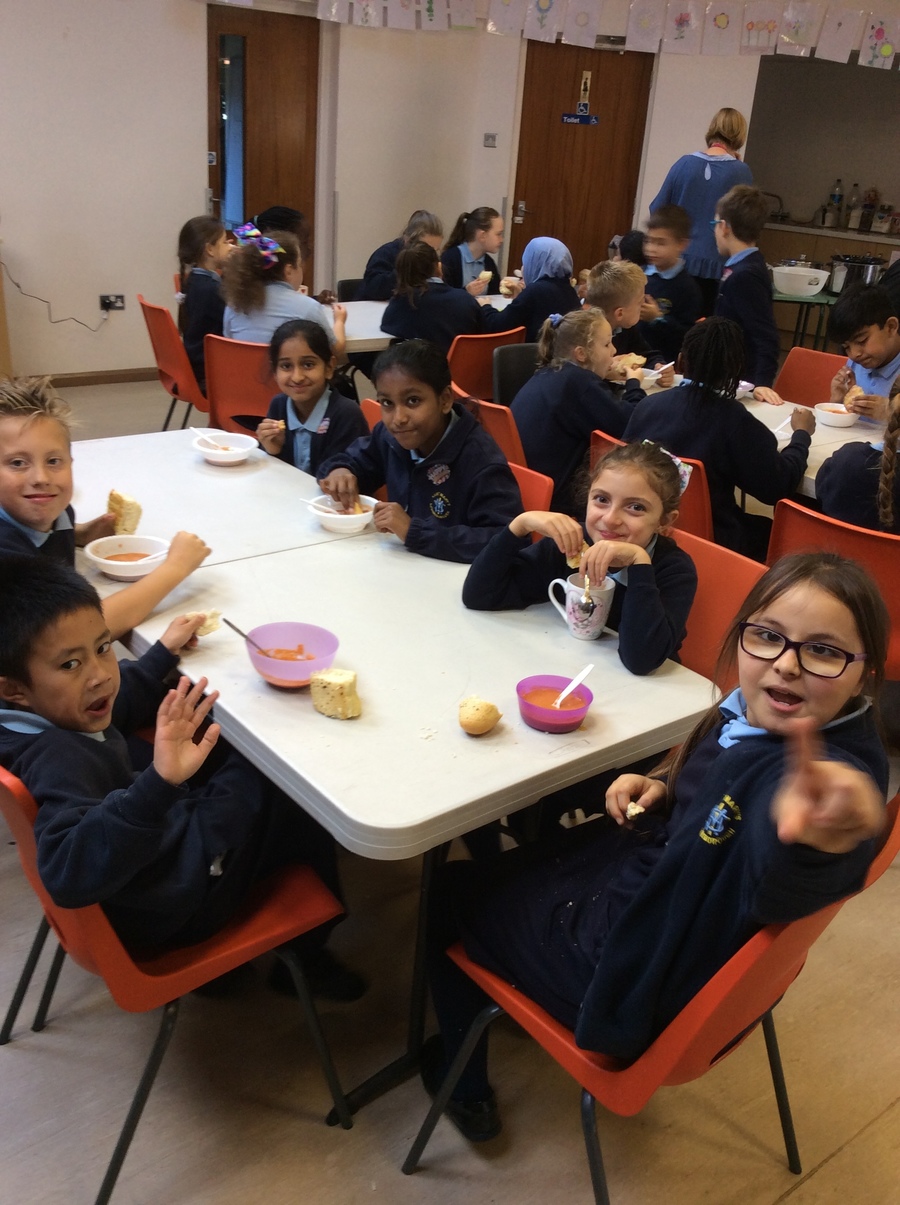 As a school, we follow the Liturgical seasons of the year, remembering the birth, life and death of Jesus Christ. We base all we do on His teachings, reaching out to others and following the words of Saint Teresa, beginning with the people nearest to us. We support the Parish community, helping the elderly (through the Senior Citizens Group and visiting local old peoples' homes during Advent - year 4 Saint Peter's Class - THANK YOU!) We support the youngest members of our community settle in to school life (Prayer Partners Liturgy and Prayer Partners scheme - THANK YOU YEAR 5!)
We collect for Saint Joseph's Storeroom, the food bank at the local homeless charity, The Carpenter's Arms , all year round but especially during Advent when we do the reverse Advent calendar and during Lent when we also fund-raise for our chosen House charities as well as the Parish charities. After the Christmas and summer plays we offer all donations to the Kwediboma African Mission, a chosen Mission of the Parish, helping fund a remote hospital.
When we celebrate International Children's Day we remember the significance of the United Nations Convention on the rights of the Child and raise money for the work of Mary's Meals, helping to provide a meal for every child in a place of education.